Offering a true end-to-end solution for patients considering cosmetic treatments, whether it's botox or breast augmentation, fillers or a tummy tuck, the Now Me platform gives patients the tools to make an informed choice, all in one convenient place.
NowMe was founded with the single purpose of empowering people to feel physically and mentally complete through the power of cosmetic treatments while keeping safety and quality paramount. No judgement, no brand bias. This is an independent online destination for everyone to feel empowered, motivated and inspired by their decision.
The website (and soon to launch app) consists of four key products giving consumers the tools to make the right treatment decision for them, all in one easy to use interface:
1. First up is Naomi, an Artificial Intelligence based chatbot that answers any questions consumers may have about the treatment they seek. Structured as a messenger chat, it's the ultimate user-friendly experience that can be used anytime, anywhere. The AI technology ensures anonymity, discretion and a continuous evolution as Naomi keeps learning as she goes.
2. Next up are personalised before and afters. Forget sifting through pictures of people who are nothing like you. With NowMe's state of the art visualisation tool, Users can simply upload their photo and create their own desired look! Users can then share with friends or with medical practitioner, as they choose.
3. Then comes an interactive tool to find certified and qualified medical practitioners working at well-equipped facilities.NowMe works with best in the industry GMC registered medical practitioners only. Users can view their qualifications, experience, treatments offered, and book a consultation instantly. 4. Finally, NowMe offers the ultimate solution that enables users to discover a payment option to suit their needs ahead of the consultation. NowMe works with specialist credit providers to facilitate financing. This unique approach brings cosmetic treatment financing to point of thought for the first time.
Founder of NowMe, Vikash Agarwal expands: "We all want to be the person on the outside that we feel on the inside and achieving that synergy can deliver a new level of confidence and happiness. When we feel confident and happy with how we look, that self-esteem feeds through everything we do.  NowMe is here to help women and men put themselves first and do something that will give them the confidence to look and feel the way they want to. To be their most. Always.
This isn't about encouraging patients to have cosmetic treatments, it's about ensuring those who are considering treatments and want to make that change are informed and educated when it comes to their decision in the easiest way possible. We want to ensure consumers embark on a journey that is safe and will ultimately deliver the change they crave both inside and out."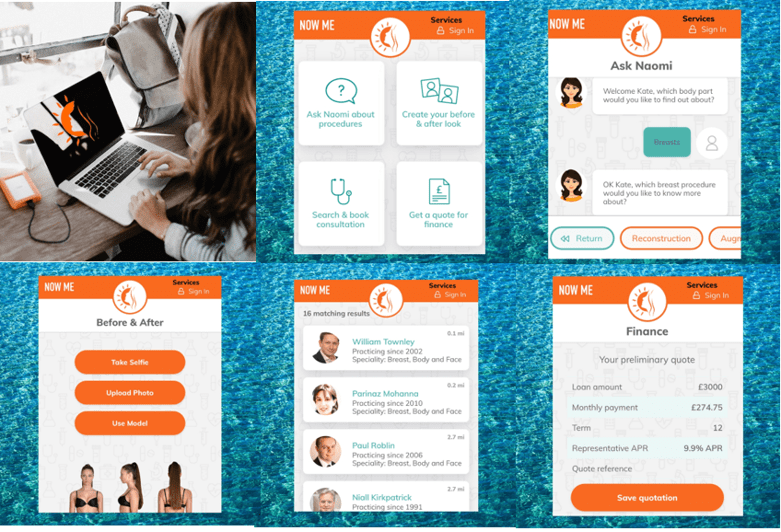 Whilst NowMe is a revelation for consumers, it's also looking to benefit the medical community. For practitioners, this tool will provide a higher conversion of informed patients by ensuring those that attend consultations are already aware of what the treatment involves. Not to mention, by prioritising safety and information, NowMe seeks to boost credibility for the sector, ensuring it is seen as a space that puts patients first.
NowMe launches this week. Visit www.nowme.co.uk to discover more.