We are glad to invite you to the second edition of the Marrakech World Aesthetic Congress, back to the mystical splendour of the Palmeraie Golf Palace, Kingdom of Morocco. This unique meeting, which focuses on the advancement of regenerative and aesthetic medicine and surgery, will take place on 8 and 9 November 2013.
The Inaugural Meeting of 2012 was an exceptional success, with more than 360 attendees from 14 different countries. This success was possible thanks to the contribution the international faculty, who brought together rigorous scientific foundations and state of the art in aesthetic practice, as well as in the innovative fields of regenerative medicine and surgery.
For this reason, the Marrakech World Aesthetic Congress is held under the Royal Patronage granted by His Majesty The King Mohammed VI of Morocco for the advancement of regenerative and aesthetic medicine and surgery in the Kingdom of Morocco and worldwide.
This year, the scientific committee will maintain the high quality programme and format. Multiple intensive courses on volumetric reshaping and botulinum toxin, the latest aspects of micro fat grafting, adipose-derived stem cells, and stem cell based therapies will be thoroughly covered through the unique format of practical teaching courses.
The artistic concepts of facial beauty, high definition video anatomic dissections, and live clinical demonstrations for each facial area will be presented in the main Atlas plenary session.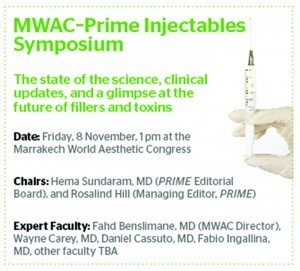 Parallel sessions of special interest will be held in the afternoon, along with workshops on emerging technologies.
The inaugural meeting was dedicated to young trainees of Moroccan academic institutions and trainees of the Barts School of Medicine, Queen Mary University of London, who attended the congress.
This year's congress extends this dedication to all trainees of these innovative emerging fields worldwide, continuing this educational spirit, and we are expecting to double the number of attendees.
This congress is part of a gait knowledge sharing between experts and young professionals in search of excellence.
We look forward to welcoming you for the second edition of another unforgettable event.