Juvea Medical in London's prestigious Harley Street is pleased to announce that it is the first clinic in the UK to offer the state of-the-art body contouring laser treatment SculpSure® for the problematic double chin area.
SculpSure® is an advanced, non-invasive body contouring treatment that helps patients achieve a natural-looking, slimmer appearance. The fully customisable treatment uses a laser to raise the temperature of body fat to precisely disrupt and destroy fat cells under the skin. The fat cells are then naturally eliminated over time and do not return. Each treatment lasts approximately 25 minutes and requires no surgery or downtime.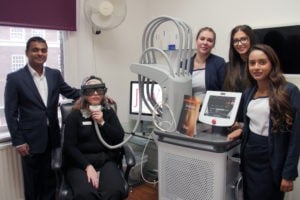 "As we age and our metabolism slows down, the skin around our chin and neck area loses its elasticity – which can lead to sagging skin and an accumulation of stubborn fat. This is a problem for many women who visit my clinic looking for a long-term and non-invasive solution. Juvea is the first clinic in the UK to offer SculpSure; a non-surgical treatment that permanently eliminates stubborn fat around the chin and neck for a smooth, sculpted and more youthful appearance" says Dr Faizeen Zavahir – Medical Director at Juvea Medical.
To learn more about SculpSure® at Juvea Medical please visit:
http://www.juveaaesthetics.com/non-surgical/body/laser-liposuction/