IBSA Derma, IBSA's dermo-aesthetic division, is pleased to present Viscoderm® Hydrobooster Cream, its new hydrating cream based on high molecular weight hyaluronic acid, specifically designed for women who want to enhance the quality of their skin and make it radiant and smooth.
Suitable for face, neck and, décolleté, with a soft, light texture that allows for rapid absorption, Viscoderm® Hydrobooster Cream contains hyaluronic acid and jojoba oil, which help restore the skin's hydrolipidic film and preserve it over time.
The high-quality hyaluronic acid used by IBSA Derma guarantees hydration, while jojoba oil provides for a combined emollient and regenerating function, helping restore the hydrolipidic barrier of altered skin. The synergic effect of the two ingredients is therefore useful in counteracting skin ageing.1
The hydration efficacy2 of Viscoderm® Hydrobooster Cream is immediately visible (+5.4% one hour after the first application) and is maximized through consistent and systematic application, achieving an increase of 14.7% after only 28 days.

Available in the 50 ml format, the cream is to be applied morning and evening with a light massage until complete absorption.
According to Dr Patrizia Persini, aesthetic doctor in Turin and lecturer at the Agorà School of Aesthetic Medicine in Milan, "patients today turn to the specialist to prevent skin ageing, improve the quality of their skin and the aesthetics of their face, and the doctor's role in recommending the best possible treatment has become increasingly
important. Aesthetic Medicine treatments can have a significant impact on people's quality of life, self-esteem, relationships and social life. I believe the Viscoderm® range offers quality products for long-lasting results."
Viscoderm® Hydrobooster is a medical device based on stabilized hyaluronic acid. The product has a dual function: restoring deep hydration while, and this is the big news, achieving a stretching action, smoothing out superficial imperfections (static and dynamic wrinkles) in the highly mobile areas of the face, such as the periocular and perioral ones.
Viscoderm® Hydrobooster cream can be used as a homecare treatment.
As stated by Dr Patrizia Piersini, "consistent application at home of a cream of the same product line helps maintain and prolong the hydrating and smoothing out effect of mimic wrinkles achieved with medical treatment, and also contributes to the radiance and firmness of the skin in the treated areas."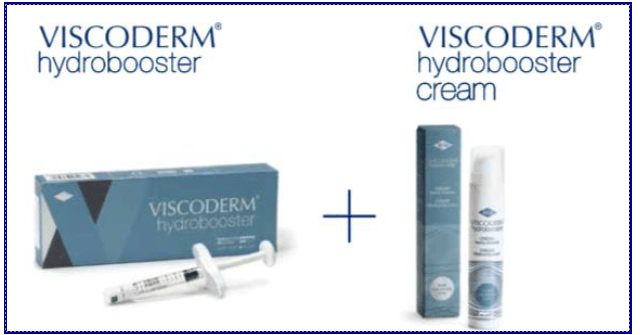 The Viscoderm® line has been designed by IBSA Derma for an approach focused on prevention and on the bio-restructuring of the skin barrier, maintaining skin vitality and providing firmness, hydration and radiance. IBSA's high-quality hyaluronic acid is produced by Streptococcus Zooepidemicus through a bio-fermentation patented process.
IBSA Derma prides itself on sound scientific know-how, enhanced by ongoing collaborations with internationally renowned professionals and makes its treatments available to leading clinics in over 70 countries worldwide.
1) Meier L., et al.- Clay jojoba oil facial mask for lesioned skin and mild acne – results of a prospective, observational pilot study. Forsch Komplementmed 2012;19:75-79.
2) G.Roveda. Evaluation of the hydrating/moisturizing efficacy of a cosmetic product (submitted).
IBSA
Farmaceutici Italia, part of the IBSA Institut Biochimique SA Group, is headquartered in Lodi, the same place where the first plant was set up. Over the years IBSA has grown rapidly with the addition of its Rome site and Cassina de' Pecchi (MI) plant and has become a leading economic and scientific reality in the Italian pharmaceutical sector. Currently, IBSA's headcount exceeds 500 people in Italy and it holds 65 patents for cutting-edge pharmaceutical technologies. Over the years, technology and know-how, together with investments in research and development, have allowed the Company to build an extensive product portfolio covering 10 therapeutic areas. Pharmaceutical and consumer products, medical devices, and food supplements, developed and produced in Italy by our People and sold in over 80 countries worldwide. People, Innovation, Quality and Sustainability constitute IBSA's cornerstones.
IBSA Derma
IBSA Derma is IBSA's dermo-aesthetic division. The foundations on which IBSA Derma has sustained its growth on national and international markets, anticipating the needs of doctors and patients, are pharmaceutical expertise, technological know-how and an innovative and dynamic market approach. IBSA Derma's approach, with its comprehensive range of Viscoderm®, Profhilo® and Aliaxin® products developed on the basis of the Hydrolift® Action concept, aims at counteracting the physiological decrease of hyaluronic acid in tissues, restoring hydration, elasticity and tone. Thanks to an innovative use of ultra-pure hyaluronic acid, positioned globally in the "top high quality" range for its purity and safety, IBSA Derma is redefining beauty standards by enhancing the authenticity of each and every individual, because Everyone is a Masterpiece.