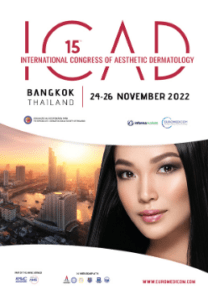 The International Congress of Aesthetic Dermatology, ICAD, has been built upon a long-term collaboration between the Dermatological Society of Thailand (DST) and EuroMediCom.
ICAD today is considered as a significant milestone for the Asian medical and healthcare community for aesthetic and anti-aging dermatology. Asia has led the way in showing rapid growth in the aesthetic market. ICAD 2019 is a high level of medical continuing education platform with an ambition to contribute to the medical community in confronting this challenging growth wave.
The scientific sessions offer an amazing opportunity to share ideas and learn about the significant advances in aesthetic and anti-aging strategy and treatment. Over the course of 2 days, attendees will receive exclusive access to scientific and sponsored sessions, take part in provocative and engaging exchanges with leading experts, and expand professional networks with over 1200 professionals from Asia and around the world.
More info & registration: www.euromedicom.com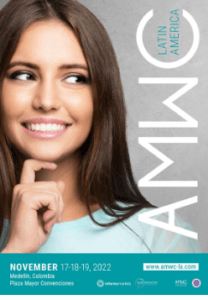 The 9th version of the Aesthetic and Anti-Aging Medicine World Congress will be held in the city of Medellín – Colombia from November 17 to 19, 2022.
More info & registration: https://amwc-la.com/en/home-page/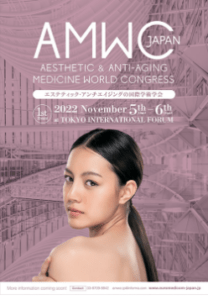 NEW EVENT!
AMWC Japan will hold its first international aesthetic and anti-aging conference in Japan. It will be a great occasion for you to learn the latest studies in various Aesthetic and Anti-Aging medical fields with experts from different countries.
More info & registration: https://amwc-japan.com/en/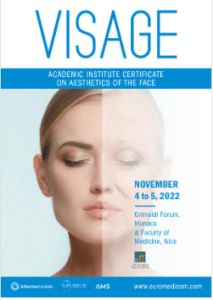 Academic Institute Certificate on Aesthetics of the Face
VISAGE is a postgraduate training program on facial aesthetic medicine organized in association with The University Institute of Face and Neck.
It is designed to provide the participant with a holistic learning experience that includes scientific theory, the study of anatomy, and hands-on tutorials held in a clinical setting.REGISTRATION INFORMATION
More info & registration: https://www.euromedicom.com/visage/en/about/about-visage.html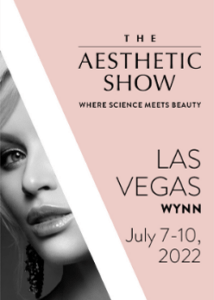 THE AESTHETIC SHOW: WHERE SCIENCE MEETS BEAUTY
Put simply, The Aesthetic Show stands above the competition. Why? Because we celebrate diversity and foster a comfortable, inclusive environment. We might come from different places, have various skill sets and unique talents, but we share a common bond: a passion and dedication to the medical aesthetics profession. At this multi-disciplinary event you get the rare opportunity to work with practitioners of different backgrounds and find solutions you might not have discovered in your own discipline. The Aesthetic Show proudly welcomes the full spectrum of medical specialties practicing aesthetics, including:
Allergology
Cosmetic Surgery
Dental
Dermatology
Emergency Medicine
Internal Medicine
Obstetrics and Gynocology
Ophthalmology
Orthodontics
Orthopedics
Otolaryngology
Plastic Surgery
Primary Care
Radiology
Urology
…and more!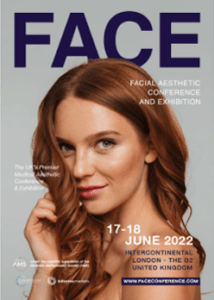 FACE is the UK's premier scientific conference featuring the latest clinical information, practical tips and updates in the field aesthetic treatments.
Over the last 18 years, FACE has grown to become one of the leading aesthetic conferences in the word. With over 150 national and international speakers and a comprehensive agenda format, FACE continues to dominate the premium UK market of medical aesthetics.
It's recognized as one of the key dates in the calendar for anyone involved in the aesthetic and anti-ageing medicine.
More info & registration: https://www.faceconference.com/en/home.html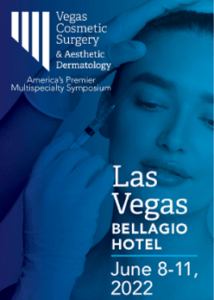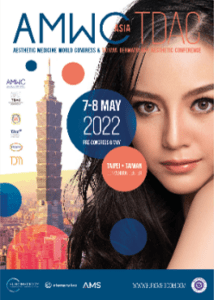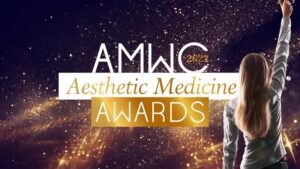 Take part in the prestigious AMWC Aesthetic Medicine Awards 2022.
A competition that gives recognition to physicians and companies aspiring for innovation and the advancement of aesthetics & anti-aging medicine.
The competition is open to all physicians and companies who operate in the field of aesthetics & anti-aging medicine.
The winning physician will be awarded for the best clinical case of their respective category and the winning company will be awarded for the best product or technology in the industry at the AMWC 2022 Closing Ceremony on Saturday April 2, 2022.
More info & registration: https://www.euromedicom.com/amwc-2022/en/amwc-awards/about-the-awards.html