DermaSet is now offering a unique experience for their customers. The company is launching new software known as DermaSet 4 You. Through the use of this artificial intelligence software, customers will be able to detail their problem areas. Then based on the customer's information, DermaSet will design a special custom program, including additional tips on how to keep their skin healthy and young looking.
"We are the first company to design a custom experience for each and every customer based on their skin type, age, gender problematic areas, and even climate," says Boris Zion, CMO of DermaSet. Boris was appointed as a CMO in 2016 bringing more than 10 years marketing technology and software engineering experience to the company. "We understand that everyone has a different skin type and we can't apply the same solution to everyone. This is why we took a different approach by developing a custom program for everyone."
DermaSet is composed of special botanical and natural elements, such as Edelweiss, sea fennel, apple stem cells, and grape seed extract, that have been refined and carefully combined to help increase the skin's ability to retain moisture, elasticity, and firmness. DermaSet also uses a combination of peptides, such as Argireline to firm and reduce the look of wrinkles, and Chromabright to replenish and even out skin tone.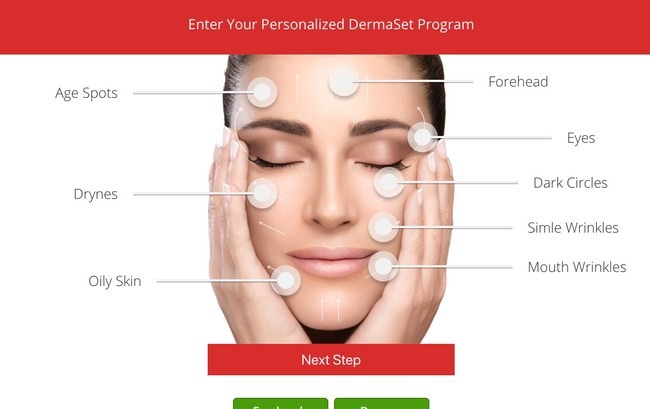 According to the company, in just 30 days of using DermaSet customers will begin to see a reduction of wrinkle depth, age spots and crows feet, an even overall skin tone and texture, soft and ultra-hydrated skin and an overall young-looking appearance. The company has received some great reviews on their products.
Christine Hollard writes, "The best product! Totally worth the price. I had deep wrinkles around my eyes, and DermaSet is the only product that worked for me! I already told all my friends to give it a try, and I am ordering it every two months."
For more information on DermaSet 4 You and their specially-designed products, visit DermaSetskincare.com.
About DermaSet
DermaSet is a skincare company specializing in anti-aging, anti-wrinkle skin rejuvenation. The products allow customers to reveal firmer, younger looking skin fast. For more information, visit DermaSetskincare.com.