The Anti-Aging & Beauty Trophy is presented by EuroMediCom and WOSIAM. Judged in 14 categories, products and treatments are rated by health professionals, journalists, and the general public
DERMAL FILLERS
Finalists
1} TEOSYAL® RHA 4, TEOXANE  SA. Benefiting from the latest technology "Preserved Network' by TEOXANE Laboratories, RHA 4 is made of high molecular weight HA and an optimized degree of crosslinking for unique rheological properties. At the same time highly stretchable and resistant, RHA 4 is adapted to superficial subcutaneous injections where other volumizers usually need to be placed in the deepest layer. By filling superficial fat compartments, RHA 4 provides soft volume enhancement while preserving facial dynamism and expressiveness.
2} Radiesse®(+) Lidocaine, MERZ Aesthetics. Radiesse®(+) Lidocaine combines the proven efficacy and safety of Radiesse® with extra treatment comfort. The product provides an immediate lifting effect and stimulates the natural production of collagen, providing the lasting results that patients and physicians expect from Radiesse®, as well as significant reduction in pain due to the addition of lidocaine within each syringe. In Europe, Radiesse®(+) Lidocaine is indicated for plastic/reconstructive procedures, including deep dermal and subdermal soft tissue augmentation of the facial area and restoration and correction of facial volume loss.
3} Restylane, Galderma. RESTYLANE® NASHA technology (Non-Animal Stabilized Hyaluronic Acid) is the first injectables brand with non-animal hyaluronic acid. NASHA technology represents several fillers and skinboosters, with or without lidocaine, which have differing gel sizes for a long-lasting lifting capacity.
4} Liquidimplant, NOVACUTIS INC. Liquidimplant is a complete HA filler family and includes SubCutis for facial volumization and contouring, Cutis to correct moderate to severe facial wrinkles and folds, as well as Labium to enhance and contour lips. Liquidimplant is a non-animal based HA  filler gel manufactured by bio-fermentation and the risks of allergic reactions are minimal. Liquidimplant exceeds the highest standards of purity for HA's, and as a result, it is extremely safe and nonpathogenic for human use.
5} Algeness, Advanced Aesthetic Technologies. Inc. Algeness, leading the growing trend to all natural aesthetic procedures, is the first all natural fully biodegradable injectable implant offering immediate results in aesthetic and therapeutic enhancement and correction procedures.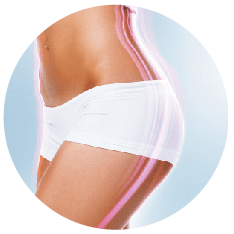 TIGHTENING THREADS AND SUTURES
Finalists
1} Aptos Threads: Visage, Light Lift, Nano, Sole, Body; Aptos LLC. Aptos threads are a non-invasive method for face and body lifting, contouring and rejuvenation. The threads are presented with specially designed barbs, meant to carry out both lifting and rejuvenation. Once inserted into subdermal tissue, the barbs lift the skin, creating fibrosis and stimulate formation of new collagen necessary to provide support for the soft tissues as well as lift the tissue and hold them in an upright position. As a result, better facial contour is visible immediately after the procedure. Aptos threads are available both in permanent (polypropylene) and resorbable (polylactic acid/caprolactone) versions. Both materials are safe and have been widely used in surgery for more than 50 years. The results after thread-lift last for 1.5–5 years, depending on thread composition. Aptos threads are sold worldwide. They have CE Mark, ISO certificate, and pending for FDA approval. Clinical and safety studies have been performed in the US and Europe. These guarantee the quality throughout the entire manufacturing process.
2} LUXEFACE threads & concept, A SWISS GROUP. LUXEFACE is the world's first technique for non-surgical skin rejuvenation for the face using absorbable threads. Developed in 2010 by Dr. Dorina Donici, the aim of the concept is to provide a high-quality range of products at a competitive price starting with a base line up to a luxury line. The LUXEFACE method was conceived for all skin types — from dry flabby skin to pigmented, acneic or heavy skin. With a three step treatment: rejuvenation, lifting, and volumizing; LUXEFACE not only gave a new concept but also presented for the first time in the world the ligature technique that is now very popular in the aesthetic field.
SKIN ENHANCER
Finalists
1} Xela Rederm, Institute Hyalual. A product for redermalization and an innovative method for efficient aging prevention and skin restoration, affecting all the three main pathogenic skin aging mechanisms: regulates biochemical and physiological processes in cells; efficiently blocks free radicals; prevents skin dehydration.
2} Endoret Gel, BTI Biotechnology Institute.
BTI Biotechnology Institute presents its new development for wrinkle filling based on Endoret PRGF Technology: Endoret Gel®. Endoret Gel® is the new  biomaterial for wrinkle attenuation with viscoelastic properties and is completely autologous with bioactive properties, thanks to the presence of growth factors and proteins in the formulation. Endoret Gel® provides great volume enhancement and tissue regeneration derived from its optimized biological and  biomechanical properties.
3} RRS Hyalift 75 Proactive (3ml syringe), Skin Tech Pharma Group. As a pioneer in the field of Aesthetic Medicine since 1996, Skin Tech Pharma Group strives to offer complete and innovative solutions for the most frequently requested indications in aesthetic dermatology. These include peelings, injectable solutions, classical mesotherapy and cosmeceuticals.
Body Shaping Technology
Finalists
1} Cellfina®, MERZ Aesthetics. Merz Aesthetics now offers a minimally invasive treatment option designed to improve the appearance of cellulite. The Cellfina® Treatment is delivered by the Cellfina® System, which combines a highly advanced, proprietary technology with a well-established procedure called Subcision® to treat the underlying structural problem that causes cellulite for long-lasting results that last at least three years.
2} Body By BTL, BTL Industries. The new Body By BTL program, consisting of the BTL Vanquish ME, BTL Exilis System and BTL X-Wave, represents a powerful portfolio of non-invasive products that restores the silhouette from head to toe. Minimizing the non-responder rate, the Body By BTL delivers ultimate body shaping, skin tightening, facial rejuvenation and cellulite reduction results.
COSMETICS
Finalists
1} Universkin P + Active Ingredients, UNIVERSKIN. Imagine Universkin™ as a classy, bespoke cocktail — the client tells the practitioner what they want from their skincare, and the physician or a top clinical staff identify the client's needs with their expertise and experience, thus creating a unique combination of active ingredients, just for the individual client. To design the formula, a skin analysis is conducted through a questionnaire structured in 8 colors corresponding to the 8 main skin functions enabling the selection of the relevant active ingredients out of the 19 we have available. The practitioner will choose the active ingredients and the client will choose the texture they like. Up to 1159 potential formulas, in 57 different concentrations are possible.  In record time — less than 1 minute — the client's skincare formula will be ready. It can be fine-tuned over time to match the client's lifestyle, age, skin condition, seasonal and environmental aggressions.
2} RHA® hydrogel mask, TEOXANE  Laboratories. An innovative and unique blend of RHA resilient hyaluronic acid and hydrogel in a masking formula for an intensely hydrated, toned and radiant skin from the first application. The hydrogel, formed by sea-derived polymers, is widely recognized and used by professionals for its natural ultra-absorbant effect, it offers a better diffusion of active ingredients whilst creating a hydrating and filmogenic matrix. With its 'ice effect' it feels ultra fresh when removed from the skin and with its Plump and Lift double action, RHA® hydrogel mask is also a perfect post-act skincare solution. It has both a soothing and anti-aging benefit.
3} LC Cell Hair Solution, LC CELL LLC. Take action against hair loss, thinning and lack of volume with the most advanced human stem cell technology in LC Cell Hair Solution. HGF, peptides, arginine, zinc and a complete blend of advanced actives and botanicals stimulate follicles and scalp cells to return them to their proper function, bringing volume and vibrancy back to the hair. The unique formula starts by improving follicle anchoring and scalp health to help reduce hair loss and allows follicles to remain in the growth phase longer, resulting in thicker, longer hair. This easy-to-use nourishing spray is safe and effective for both women and men. Most patients see results within the first two weeks of use and consistent application brings incredible results in hair thickness and often leads to regrowth.
Energy-Based Device
Finalists
1} Exilis Ultra 360, BTL Industries. The Exilis Ultra 360 represents the world's most advanced technology for body contouring, skin tightening, facial rejuvenation and intimate health wellness. Its two applicators and various exchangeable tips enable the treatment of more than 20 body areas — ma
king the system arguably the most versatile platform on the market.
2} PICO Genesis by Enlighten, CUTERA. PICO Genesis™ introduces an entirely new approach in the treatment of discrete lesions and skin revitalization. PICO Genesis combines the benefits of two highly effective wavelengths and ultra-short pulses to cause an intense, non-thermal, photo-mechanical disruption—shattering the benign pigmented lesions while delivering a laser-induced shockwave for dermal disruption and remodeling. What we get is a brighter, more uniform complexion in as few as 2 treatments.
Tools and devices
Finalists
1} 3DOSE Unit Dose Injector, TSK Laboratory. The disposable BTX injector — 3Dose
Unit Dose Injector — with a patented clicker system allows for utmost accurate dosing. The audible and tactile feedback per injected unit eradicates the need for guesswork and calculating errors in BoNT units by simplifying the injection of units in ml to 'one click = one unit'; each dose is released by effecting a light pressure on the plunger. The disposable syringe allows for more accurate, consistent and easier injections for all the FDA approved botulinum toxins in different dilutions. Dialing down the plunger to the wanted dose per click enables for various dose settings and different volumes (up to the smallest volume possible: 0.0125ml).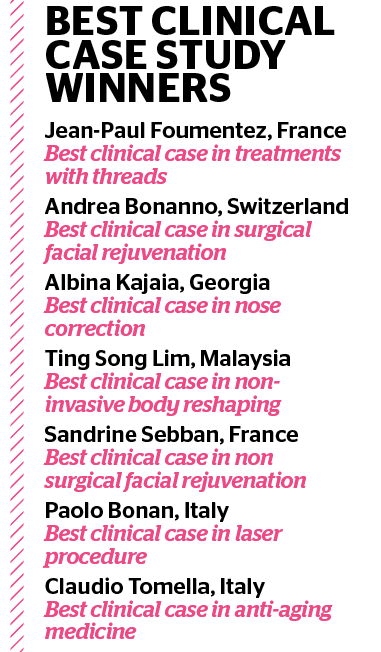 2} LifeViz® Infinity, QuantifiCare SA The LifeViz® Infinity is the first, portable 3D imaging system to convince patients to engage in face, breast and body procedures. 3D photodocumentation is an integral part of the consultative process, which helps the patients to understand the ageing process and define a treatment plan with their physician. With the LifeViz® Infinity, you begin by taking a 'life-like' 3D image of the patient, then simulate and identify the right implant directly in the BreastShaper software. Rather than having different hardware for face and body, simulation and/or skin analysis, the LifeViz® Infinity offers a comprehensive solution in an all-in-one system. This new addition to the LifeViz® range will bring portability to face and now breast and body 3D acquisition.
3} NANOPORE STYLUS 02, SESDERMA. The Nanopore Stylus micro-needling device promotes skin health through a non-invasive cosmetic treatment. The absence of bleeding, speed of treatment: high-speed motor 12,0000 RPM–15V. Needles with titanium coating: without risk of allergies or adverse reactions. The absence of cross-contamination and minimum edema: controlled inflammatory cascade.